Xleaner 4.28.1368 freeware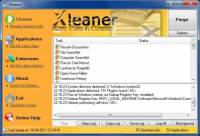 View Image
... the web on your computer, such as internet history, cookies, cache, autocomplete memory etc. of your browser, and window's temp folders, run history, search history, open/save history, recent documents and more. ...
Xleaner - cleanup history Freeware Download Notice
Xleaner Free Download - we do not host any Xleaner torrent files or links of Xleaner on rapidshare.com, depositfiles.com, megaupload.com etc. All Xleaner download links are direct Xleaner download from publisher site or their selected mirrors.
Xleaner freeware - The Latest User Reviews
Xleaner freeware - The Latest Versions History
4.28.1368
Mar 18, 2013
New Release
· Added support for Firefox 19
· Added support for Google Chrome 25
· Optimized support for Opera 12.14
· Optimized function for downloading Add-ons for Xleaner
· Added our new App "DDownloads" (Windows App Store) to the Xleaner Add-ons Section
· Optimized cleaning for "uTorrent"
· Updated Copyright Infos
· Numerous Minor bug fixes
4.27.1354
Jan 7, 2013
New Release
· Optimized Storage of User/Configuration files. Both the Setup variant as well as the Portable Version leaves no traces in the System and Registry (only one Startup Key if Autostart is enabled).
· Changed Default Theme to "Windows"
· Fixed critical bug in the command line parameters (Cleanup Routine was not always triggered)
· Fixed critical bug when adding Custom File Masks by "Enter"
· Optimized UI and Language Output of Numerous dialogs
· Added cleaning for Microsoft Visual Studio, Microsoft.NET Cache, SUMo
· Optimized cleaning for Google Update
· Removed Support for "xl_ban.dat"
· Optimized Revision control
· Optimized UI of Widget
· Optimized Plug-in Info Feature
· Optimized Backup/Export of Configuration files
· Optimized Xleaner Logo in the "About" window
· Numerous internal Code Optimizations
· Updated License Agreement
· Optimized Setup
· Optimized umes.exe
· Homepage link in the UI refer to Xleaner.com
· Numerous Minor bug fixes
4.27.1353
Dec 18, 2012
New Release
· Optimized Storage of User/Configuration files. Both the Setup variant as well as the Portable Version leaves no traces in the System and Registry (only one Startup Key if Autostart is enabled).
· Changed Default Theme to "Windows"
· Fixed critical bug in the command line parameters (Cleanup Routine was not always triggered)
· Fixed critical bug when adding Custom File Masks by "Enter"
· Optimized UI and Language Output of Numerous dialogs
· Added cleaning for Microsoft Visual Studio, Microsoft.NET Cache, SUMo
· Optimized cleaning for Google Update
· Removed Support for "xl_ban.dat"
· Optimized Revision control
· Optimized UI of Widget
· Optimized Plug-in Info Feature
· Optimized Backup/Export of Configuration files
· Optimized Xleaner Logo in the "About" window
· Numerous internal Code Optimizations
· Updated License Agreement
· Optimized Setup
· Optimized umes.exe
· Homepage link in the UI refer to Xleaner.com
· Numerous Minor bug fixes