3DP Net 19.11 freeware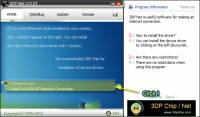 View Image
3DP Net is integrated driver installer that supports many model of ethernet card.
3DP Net detects ethernet card automatically. and provides the newest or the most suitable driver.
It supports off-line installation. Simply 3DP Net is intergrated driver installer.
Author
3DPChip.com
Released
2019-11-15
Filesize
116.00 MB
Downloads
2437
OS
Windows XP, Windows Vista, Windows Vista x64, Windows 7, Windows 7 x64, Windows 8, Windows 8 x64, Windows 10, Windows 10 x64
Installation
Instal And Uninstall
Keywords
Update Driver, Network Driver, Driver Updater, Update, Updater, Driver
Users' rating
(10 rating)
Our rating
3DP Net - Freeware Download Notice
3DP Net Free Download - we do not host any 3DP Net torrent files or links of 3DP Net on rapidshare.com, depositfiles.com, megaupload.com etc. All 3DP Net download links are direct 3DP Net download from publisher site or their selected mirrors.
3DP Net freeware - The Latest User Reviews
3DP Net freeware - The Latest Versions History
19.11
Nov 15, 2019
New Release
Bug has been fixed:
Driver installation bug : Intel X553/X557 with 64bit Win10/Server2016
Newly added or support has been enhanced:
Support for Windows Server 2019 (Some devices)
Driver has been updated:
Intel 82576 / I350 Virtual Function
(64bit 10 & Server2016~) v1.4.6.1 (08-02-2016) >> v1.4.7.3 (09-10-2019)
Some of Intel 82580 / I210 / I211 / I350 / X520 / X540 / X550 / X710
(64bit 10 & Server2016) v12.15.184.0 (10-10-2018) >> v12.18.9.1 (07-04-2019)
(32bit 10 & Server2016) v12.15.184.0 (07-03-2018) >> v12.18.9.1 (07-04-2019)
(8.1 & Server2012R2) v12.14.7.0 (11-03-2017) >> v12.14.8.1 (09-05-2019)
(64bit 8 & Server2012) v12.14.7.0 (07-12-2018) >> v12.14.8.1 (09-05-2019)
(7 & Server2008R2) v12.13.27.0 (12-08-2016) >> v12.13.27.0 (07-08-2019)
Some of Intel 82599 / X520
(10 & Server2016~) v4.1.131.0 (08-24-2018) >> v4.1.143.0 (07-30-2019)
Intel 82599 / X540 Virtual Function
(64bit 10 & Server2016~) v2.1.133.0 (09-25-2018) >> v2.1.175.0 (08-02-2019)
18.12
Dec 4, 2018
New Release
Bug has been fixed.
Driver installation bug : Intel X540/X550/552 Virtual Function
Does not support legacy O/S : WinXP & Vista & Server2003R2/2008
Driver has been updated:
Intel 3160/7260 & Some of 7265 (7/8/8.1/10 & Server2008R2~2016) v18.33.5.1 (10-09-2016) >> v18.33.14.3 (09-03-2018)
Intel 3165/3168 & Some of 7265 (10 & Server2016) v19.40.0.3 (01-15-2017) >> v19.51.15.3 (09-03-2018) (7/8/8.1 & Server2008R2~2012R2) v19.10.3.6 (01-15-2017) >> v19.10.14.1 (08-26-2018)
Intel 4165/8260/8265/8275 (32bit 10 & Server2016) v19.40.0.3 (01-15-2017) >> v19.51.15.3 (09-03-2018) (64bit 10 & Server2016) v19.40.0.3 (01-15-2017) >> v20.70.3.3 (09-03-2018) (7/8/8.1 & Server2008R2~2012R2) v19.10.3.6 (01-15-2017) >> v19.10.14.1 (08-26-2018)
Intel 82576 & I350 Virtual Function (64bit 10 & Server2016) v1.4.5.4 (07-17-2013) >> v1.4.6.1 (08-02-2016)
Intel 82579LM/V (10 & Server2016) v12.15.31.4 (03-29-2016) >> v12.15.31.4 (07-25-2016)
16.04
Apr 26, 2016
New Release
Bug has been fixed.Bug has been fixed:
Driver installation bug (Some of Qualcomm Atheros QCA61x4/A / QCA9377 Wireless & Killer Wireless-n/a/ac 1525/1535 Wireless)