Geneious Basic 6.0.4 freeware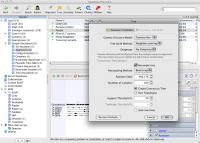 View Image
... greatly speed up and simplify the research in molecular biology and biochemistry. Geneious is a cross-platform research engine ... and analysis of biomolecular data that allows any molecular biologist do core bioinformatics tasks in a flash by removing painful data-administration. ...
Geneious Basic - molecular biology Freeware Download Notice
Geneious Basic Free Download - we do not host any Geneious Basic torrent files or links of Geneious Basic on rapidshare.com, depositfiles.com, megaupload.com etc. All Geneious Basic download links are direct Geneious Basic download from publisher site or their selected mirrors.
Geneious Basic freeware - The Latest User Reviews
Geneious Basic freeware - The Latest Versions History
6.0.4
Dec 3, 2012
New Release
· Sequence Viewer: Fixed hang working with annotation types in tracks that contain '_' or '.' in their type name
· Sequence Viewer: Fixed crash in rare situations when clicking on annotations in contigs
· Sequence Viewer: Fixed crash and/or loss of newly added annotations on consensus sometimes when saving contigs
· Sequence Viewer: Fixed poor performance/hangs viewing large contigs with non-trim annotations on the reads
· Sequence Viewer: Fixed statistics that are too small to read sometimes
· Reference assembly: Fixed crash and/or incorrect results when choosing to map paired reads to all matching locations.
· Reference assembly: Fixed poor sensitivity mapping to genomes of several hundred MB (larger genome sizes (e.g. human genomes) were fine). The increased sensitivity will also slightly improve small genome results.
· Reference assembly: Fixed poor sensitivity mapping reads spanning the origin of circular reference sequences
6.0.3
Nov 12, 2012
New Release
· Added fastq export option to export paired reads to parallel files

Bugs fixed:
· Read mapping: Fixed incorrect read mapping results and/or poor performance sometimes with circular reference sequences
· 3D Structure Viewer: Fixed a bug where the selection in the tree was being calculated incorrectly, causing the tree and selections to behave incorrectly
· Fixed bug where extraction of multi-interval annotations from long sequences with many annotations could result in extra annotations
· Made PMID show up correctly on PubMed documents
· Fixed extraction of primers from regions of alignments containing gaps
· Fixed crash when concatenating sequence lists or alignments such that that total number of bases was greater than around 2,000,000,000
· Fixed issue where tree viewer options didn't update when saving document
· Fixed issue where jmol viewer selection misbehaved when a PDB document contains HETATM records prior to the last ATOM record
5.6.6
Oct 22, 2012
New Release
Features:
· Restored the old annotation table view

Bugs fixed:
· Fixed "There is already a track on this sequence with name..." error message when running various operations such as cloning and SAM import
· Fixed out of memory error when viewing some sequences
· Fixed a bug where the Csv importer wasn't importing Date fields correctly.
· Fixed an error that would occur when searching a server database using a number field
· Fixed an issue with Sassafras licenses not working